The Paris Pop Up Restaurant
Paris is seeing a new trend in the foodie world, beyond food trucks and cream-puffs. In the last six months, the pop-up restaurant has taken hold over Paris' finest palates, including most recently, those of Laura Vidal and Harry Cummins of Frenchie. Laura, the incredible sommelière, and Harry, the head chef, both of my all-time favorite restaurant- Frenchie- decided to create their own pop up restaurant.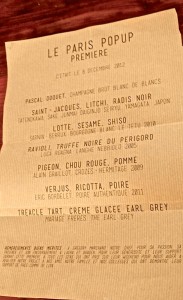 The Paris Pop Up is a once-a-month happening, that will take place in a different Parisian restaurant each time. With fresh flavors and inventive wine pairings, the first dinner held last saturday was a pure delight. For the first go around, Laura and Harry chose to hold their dinner at Verjus, another foodie favorite, and kept the dining room packed with friends, colleagues, and food writers. To my left was the lovely Southern belle, Wendy Lyn of The Paris Kitchen, who was dining with Bertrand Auboyneau owner of Bistro Paul Bert and his wife, and throughout the room were other Paris staples in the food scene- Aux Deux Amis, Au Passage, and of course, Gregory Marchand of Frenchie. James Henry, the Australian & former chef at Au Passage, was there as well- I can't wait to try his next venture in the Paris restaurant scene « Bones » in the 11th arr. that is set to open in the next couple of weeks.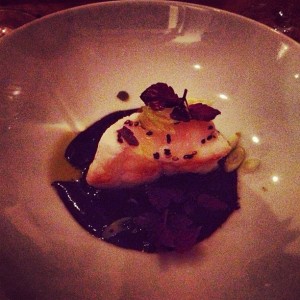 So let's talk food! First, a huge thank you to Laura and Harry and all for the hospitable service and delicious food & wine. Between the Champagne & sake to start and the whiskey to finish, I think we all had a good time.  The crowd favorites, at my table at least, were the scallops and black radish to start and the incredibly delicate ravioli with black truffle. The ricotta and pear for the cheese course was so creative, I loved the contrasting textures. And finally, it was so nice to have an earl grey infused ice cream with dessert, along with a cup of Thé Mariage Frères in between all that wine!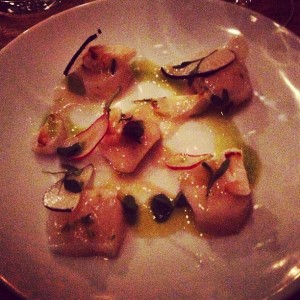 The Alain Doquet Champagne was delicious, I love a good 100% chardonnay Champagne, and also loved that Laura chose to incorporate some non-French wines in the menu. At Frenchie, one of our favorite things is that we can try wines from Hungary, America, Italy, France, basically anywhere that makes wine- and this is rare in Paris where French grapes are king. We can't wait for the next pop up dinner to happen this February (taking a break in Jan) at a location that is TBA. To follow all the news about the next pop up, « like » Paris Popup on Facebook!
Our Verdict? Laura & Harry are definitely « Guilty of Talent »
Related posts:

Laisser un commentaire
Vous devez être connecté pour rédiger un commentaire.