The Sporting Project: A taste of NYC in Paris
Ex fashion execs Tara Gilson and Jenny Capano moved to Paris to chase a dream.  After having climbed the ranks working for 3.1 Philip Lim in New York, their overwhelming passion for food, culture and traveling brought them to the decision to start a new project, in Paris.  Their idea, The Sporting Project, came to them on a work trip in Beirut when they were enjoying some relaxing time at The Sporting Club- a lifestyle center. Tara, who grew up in TriBeca, and Jenny, a Brooklyn-ite,  wanted to find a way to share their New York culture with Paris, in the form of food- of course!
Pooling their resources, the girls launched The Sporting Project, a creative agency aimed at bringing together cultures, inciting creativity, and merging passions.  Centered around Paris fashion week, the Sporting Project will host four pop-up dinners per year in Paris, produced by some well-known chefs from NYC.  Flown in specially for the dinner, the chefs will create unique, farm-to-table type meals with local produce and wines.  The first pop-up dinner launched tonight, at Bob's Kitchen, a veggie favorite in the Marais.
Partnered with the chefs from The Fat Radish in New York, Tara and Jenny went all out to bring a real New York experience to Paris- complete with a portable photo booth by The Family Band NYC.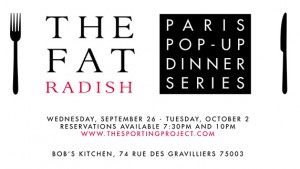 What's next for the girls once their pop-up dinners have ended? They plan to continue to collaborate with other creative minds in fashion, film, art, food, and more, to expand borders and chase their passions.  Plus- they're in the talks of creating a juice brand- yep, cold pressed, all organic, juices.  Get ready, Paris, these girls are mixing things up.Their creativity and perserverence to see this project from start to finish, and gain the support of some of the finest in Paris' food scene, has landed them a spot on our guilty of talent list.
Related posts:

One Comment
Laisser un commentaire
Vous devez être connecté pour rédiger un commentaire.